—All self published works available from the composer: —
john.r.carmichael@blueyonder.co.uk

Also available from Australian Music Centre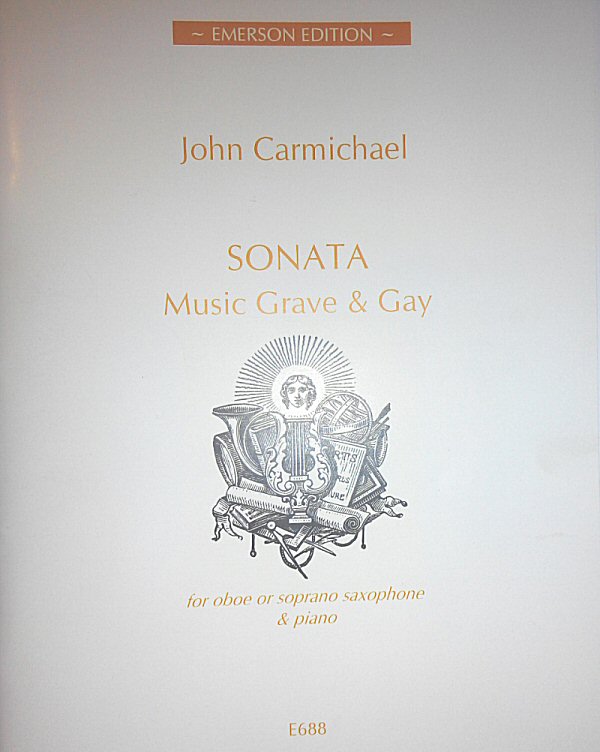 NEW WORKS:
Piano Concerto No. 2 for piano and string orchestra
On The Green for wind octet oboes, clarinets, horns, bassoons
Escapades
Trio for flute, oboe & piano
Serenade
for
flute & strings
or
flute & piano
Escapades
Duo
for
flute & clarinet
Postcards
piano solo
Fantasy Sonata for Flute & Piano Published by Southern Music Company USA.

The Fantasy Sonata by John Carmichael, edited by Roger Armstrong, is both challenging and romantic. The slow, florid first movement has two motifs that eventually unite toward the end of the movement. A deep chordal accompaniment, with a lyrical melody line on top, lends
atmosphere to to the second movement, and the third movement is enjoyable and cute. ……..The piano part contributes contributes immensely to this composition.

($15. Southern Music). Ann Blither Reynolds,University
of Indianapolis and Depauw University.

Cat. No SU431 US$15
>>Southern music company<<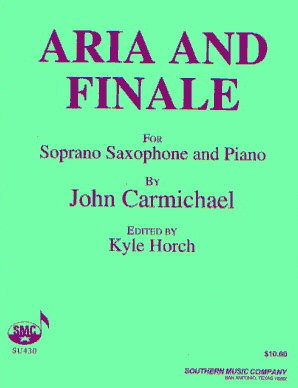 Cat. No SU430 US$10
>>Southern music company <<
Solo Piano
Damon Suite (Juvenilia) (1946)
Prelude; Sarabande; Waltz; Arabesque
Bagatelle (1956)
Published Augener. Duration – 3'00
Bravura Waltzes (1990)
Three waltzes & a Finale linked with Interludes – or can be performed separately. – 10'45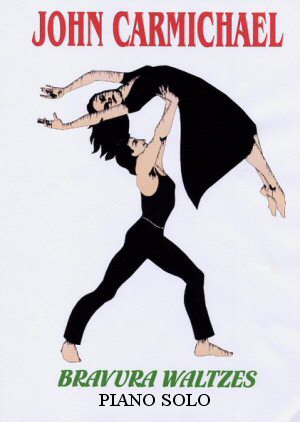 From the Dark Side (1992)
The Secret Ceremony; Before Nightfall;
Elegy; Dance with the Devil. – 11'20
Spider Song (1995). 2'30

*Click here to see an extract from the score
Sonatine – Pastorale; Interlude & Toccata (2001). 8'45
Hommages – Manuel de Falla, Francis Poulenc, Gabriel Fauré, Maurice Ravel.
11'41
*Click here to see an extract from the score
Gestorter Traum (Troubled Dream) d'après Franz Liszt.
5.01
Latin American Suite – Bahama Rumba Caribbean), Habañera – (Havana, Cuba), Joropo (Venezueal/Colombia).
9.21

Piano Four Hands
Puppet Show (1958)
Published Augener Puppet Overture; Marionette
Waltz; Parade of the Puppet Ponies; Lullaby for
a Sleeping Doll; Finale .- 10'40
Tourbillon (Whirlwind) (1959)
2 Pianos or Piano Four Hands. – 2'30
Latin American Suite (1990)
Bahama Rumba; Joropo; Habanera;
Jongo. – 14'30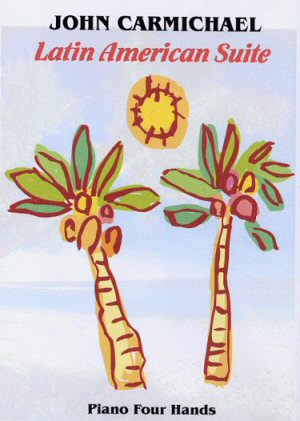 Dark Scenarios (1994)
Cortege; Ballroom Nightmare. – 10'30
Bravura Waltzes (2003)
Three waltzes & a Finale linked with Interludes
or can be performed separately. – 10'45
Flute & Piano
Phoenix, Concerto for Flute & Orchestra (1980)
(Piano Reduction Published BMG. 16'30)
Thredbo Suite (1980)
Air from the High Mountain; Nocturne; Sleigh Ride
to Thredbo .Published BMG. – 8'40
Fantasy Concerto (1988) (Piano Reduction) – 16'00
Fantasy Sonata (1995)
Spider Song (1997) – 2'30
A Little Night Music (2001)
Caribbean Moonrise; Quiet Evening;
Carnival Night. – 9'50
Serenade for Flute & Strings (2002)
Soliloquy; Waltz; Elegy;
Sicilienne; Scherzo – Finale. – 12'30

Clarinet & Piano
Fetes Champetres (1960)
Passepied; Berceuse; Rigaudon.
Published Fulcrum Publications – 8'50
10 Trafalgar Street, Cheltenham, GL50 1UH
Tel. 01242 226101
Philiptlane@aol.com
(Carmichael's) tuneful and poised Fetes Champetres borrows 16th and 17th century French dance forms in a manner akin
to Ravel's Le tombeau de Couperin or Poulenc's Suite française. The smiling outer movements ('Passepied' and 'Rigaudon')
frame a 'Berceuse' of exquisite grace.
The Gramophone March 2006

Review 'English Clarinet Concertos' CD – Dutton Digital Epoch CDLX7153 Ian Scott – Clarinet. Royal Ballet Sinfonia – Barry Wordsworth
Country Fair (1972)
Fetes Champetres arr. for Clarinet & Orchestra 8'50
Score and orchestral parts for hire
Tel. 020 8994 8810
Email: Composer@johncarmichael.com

Sun Worship (2001)
Concert Aria for Soprano, Clarinet & Piano. – 9'30
Pastorale (2002) – 3'20
Flute, Clarinet & Piano
Thredbo Suite (1980)
Air from the High Mountain, Nocturne, Sleigh Ride to Thredbo – 8'40

Saxophone & Piano

Aria & Finale for Soprano Saxophone & Piano
Published Southern Music Corporation – USA. – 16'00
Latin American Dancers for Alto Sax & Piano
Joropo, Obsession – Habanera, Bahama Rumba, Jongo. – 14′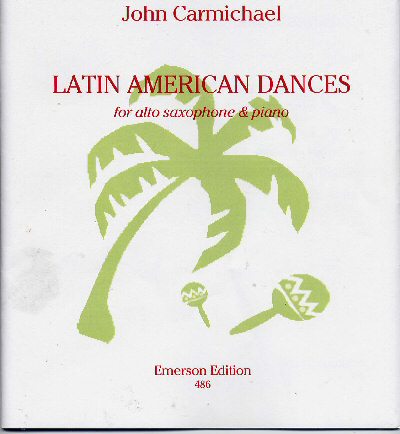 Carmichael's Latin American Dances for alto saxophone & piano ……… The four dances that comprise the suite are the
joropo from Venezuela and Colombia, the habañera from Havana, the rhumba from the Caribbean and the Brazilian jongo.
………. The piano part is vigorous, supportive and idiomatic. Such an attractive suite makes a welcome
addition to the saxophone recital repertoire. Emerson Edition

Sheet Music Review March/April 2007
Concertos

Concierto Folklorico for Piano & String Orchestra (1965)
La siesta Interrumpida; La Noche; Fiestas Full score & parts, also solo piano plus piano reduction of orchestra available. –
25′
Concerto for Trumpet & Orchestra (1974)
Andante maestoso – Tempo di marcia; Lento; Allegro vivace. Full score & parts available Also Piano Reduction of orchestra. – 26′
A Sanctuary release couples 'Four British Trumpet Concertos', outstandingly played by John Wallace with the
BBC Scottish Symphony Orchestra under Simon Wright. The CD opens with John Carmichael's Concerto,
an exceptionally well-written piece which utilizes the instrument to the full.

International Record Review July/August 2006

Review 'British Trumpet Concertos' Sanctuary Classics White Line CDWHL2159
Phoenix – Concerto for Flute & Orchestra (1980)
Lento; Allegro vivace. Piano Reduction of orchestra Full score & parts available. Also Piano Reduction of orchestra. – 16'20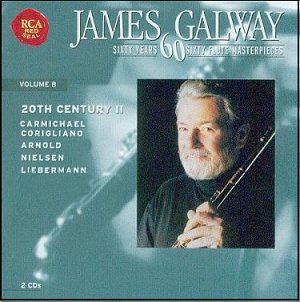 Fantasy Concerto for Flute & Orchestra (1988)
Allegro moderato;
Lento; Allegro vivace. Piano reduction of orchestra. Score & parts available. – 16′
Concerto for Soprano Saxophone & Orchestra (1990)
Aria & Finale. Piano reduction of orchestra. Full score & parts available. – 16′

Chamber Music

Piano Quartet – 'Sea Changes'. (2000)
Allegro energico; Lento ma non troppo; Allegro. – 18'40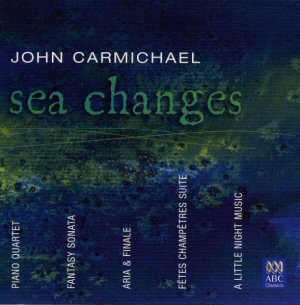 Piano Quartet 'Sea Changes'
Fantasy Sonata for Flute & Piano
Aria & Finale for Soprano Saxophone & Piano
Fetes Champetres Suite for Clarinet & Piano
A Little Night Music for Flute & Piano